Arocam C2 HD Vertical Livestream Camera Price in Pakistan
1. TOF Instantaneous Auto Focus
2. 72.5° Wide-angle and 12x Optical Zoom to Well Fit Various Venues
3. Portrait Output Support for Multiple Scenario Demands
4. Professional Color Mode, HD Image Quality
5. Brilliant Image Formation under Low Illumination
6. Wide Angle Rotation, Remote Control 
7. Easy to Install and Operate with Full Function USB Interface"
Livestreaming for Social Media and Beyond
The Hollyland Arocam C2 HD Vertical Livestream Camera with it's Time-of-Flight infrared sensor module is suitable for livestream applications requiring fast and intuitive autofocus. The camera is outfitted with a 1/2.8" CMOS sensor with 2.07MP effective pixels for up to 1080p video at 60 fps. It supports both a default portrait or horizontal orientation, making it perfect for livestreaming to social media platforms. Optically, the camera features a 72.5° wide angle lens with 12x optical zoom and 0.5 minimum illumination. A power adapter, a remote controller, and a USB cable are included.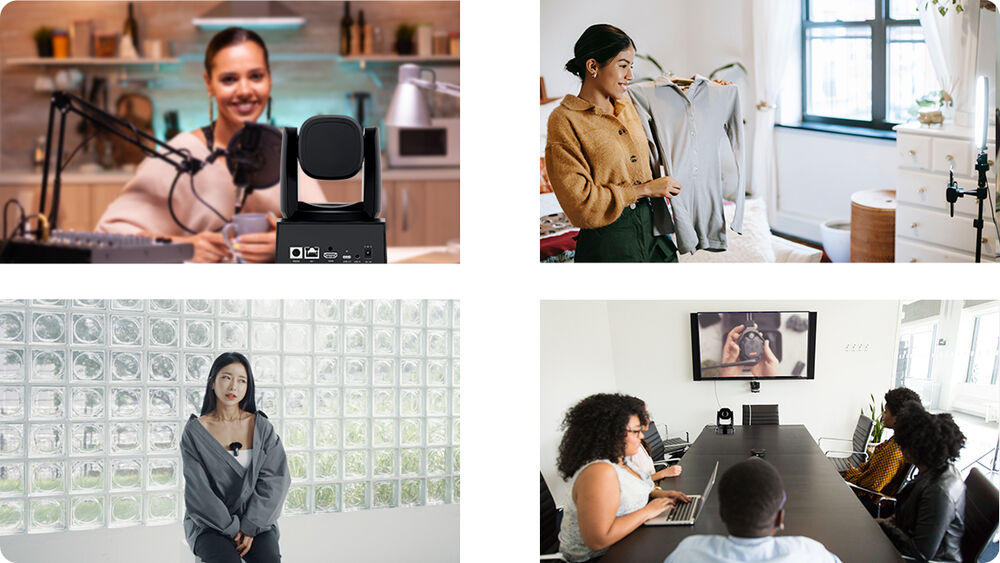 Portrait Output
The defaulted orientation for the Arocam C2 is portrait, which is perfect for livestreaming to social media platforms like TikTok and Instagram. You can switch back to traditional, horizontal framing by changing the settings internally.
Time-of-Flight Autofocus
With an advanced focusing algorithm and ToF module equipped, the lens can focus quickly and accurately. Infrared light gauges the depth and distance of objects in front of the lens before adjusting the camera's settings. This high-tech feature is intuitive and automatic, so no need to worry if you're out of focus during your presentation or Q&A.